OZARK INK TATTOO AND BODY PIERCING

214 SOUTH JEFFERSON ST.
AVA, MO 65608-0933

417 683 2797

Ozark Ink Tattoo Studio is located in Ava, Missouri; a town of about 3,000 nestled in the rolling Ozark Mountains.

Here at Ozark Ink Tattoos and Body Piercings, we specialize in all forms of tattoo artistry such as Tribal, Oriental, Cover-Ups, Fine Line, New School and Old School. We have thousands of designs to choose from, or we are also more than happy to create a custom tattoo from pictures or ideas to make your vision a reality.

We take pride in what we do, and show this by using only the best tattoo pigments and the latest in hospital sterilization techniques. All employees have completed courses given by the Red Cross on Advanced First Aid, Blood Born Pathogens, and CPR. We have two artists, and offer both tattooing and piercing services in a friendly and professional atmosphere

Along with tattoos and body piercing, we also have a store where we offer many novelty items, body jewelry, party supplies and other accessories.

There are two Artists here to serve you, you can check out their work by clicking on their name from the home page.
Gerry is the Owner/Artist/Piercer and Lyssa, who was taught by Gerry is the other Artist.
Both Gerry and Lyssa are well versed in all styles of tattooing such as Traditional American, Tribal, New School, Oriental and Black and Grey.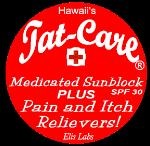 Ozark Ink is the exclusive distributor of Tat-care, the only patented tattoo aftercare product containing pain and itch relievers and sunblock